Human Resources Development
Basic Concept
■ We focus on developing human resources to become "self-reliant".
As part of Honda Lock's "Human Resource Development Initiatives," we support our employees in acquiring the necessary business knowledge and workplace skills at the time of joining the company and according to their roles, so that they can work with enthusiasm.
Toward the 2030 Vision, which is the goal of the entire Honda Lock Group, we will build a system that can flexibly confront future changes in the times. We aim to nurture human resources who will become "self-reliant" by passing on technologies and skills to the next generation, making the company more active, and increasing opportunities for each employee to further improve their skills.
■ Approach to human resource development
Develop human resources who can recognize their own roles and responsibilities and take on the challenges of environmental change and innovation based on the management philosophy and action guidelines.
Support the development of human resources who will be responsible for the future, based on being independent and proactive.
Provide and support education and training systems for global application.
Provide a training system that meets the objectives and roles of each employee.
■ Honda Lock's education system
We provide training based on an educational system centered on the concept of human resource development.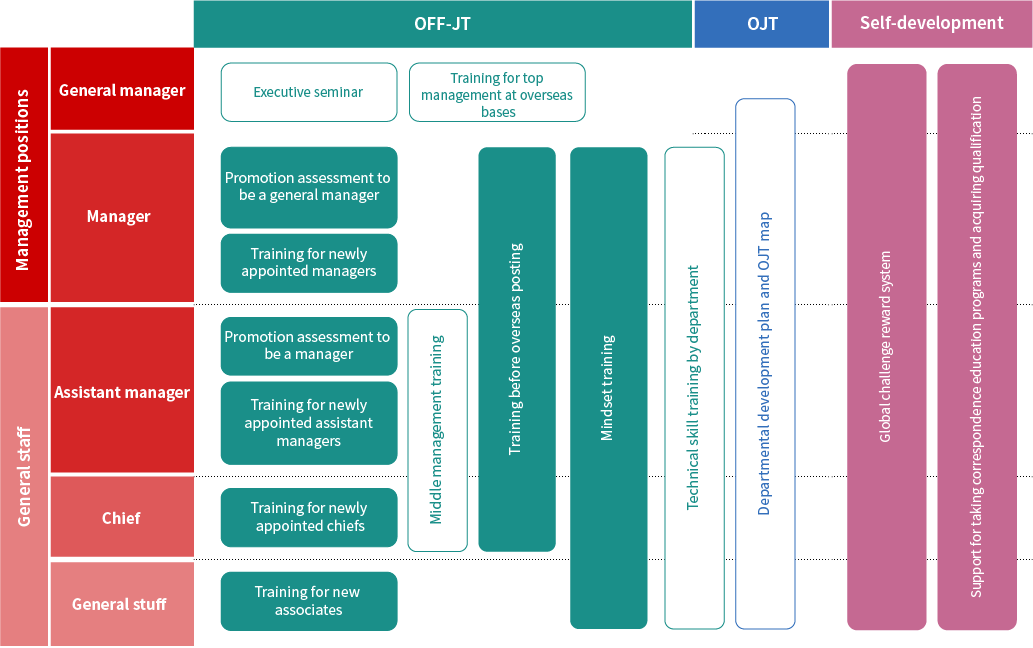 Development of human resources for management
In fiscal year 2021, we started the Middle Management Development Training Program to develop management human resources.
The purpose of this training is to educate mid-career employees who aim to take on management positions or be stationed overseas in the future. 32 employees are currently taking this training, selected by their own will and recommendations from their superiors.
This training program
①E-learning for basic management knowledge
②Process learning through a cycle of knowledge input and workplace practice (output) for exercising leadership
③In-house training to learn basic knowledge required for Honda Lock managers from in-house instructors
It is composed of
In both cases, the emphasis is on practical application in the workplace, and the entire company develops future management human resources with the cooperation of the participants' superiors and colleagues.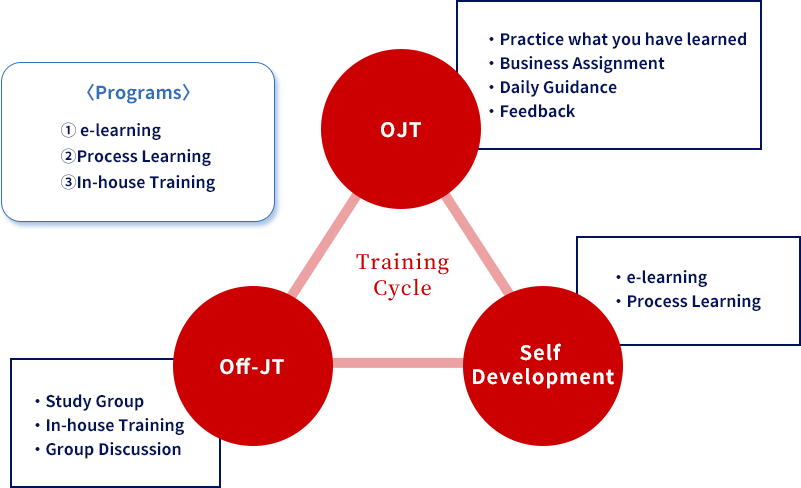 Change in corporate culture
Honda Lock has been conducting a variety of initiatives to increase employee satisfaction and motivation through employee awareness surveys.
In order to achieve our vision for 2030, we will strengthen the ties between employees and the company, and aim to create a corporate culture with high levels of engagement in which employees are motivated to work hard and make the most of their abilities and skills.
~Main initiatives~
Visualize the state of the team and the company as a whole through engagement surveys (conducted once a year for all employees)
Based on the results of the survey, consider measures to create a better team and organization through dialogue and link them to actions. 
Implementation of engagement training for managers using consulting services