Minebea AccessSolutions Technology
mold and die technology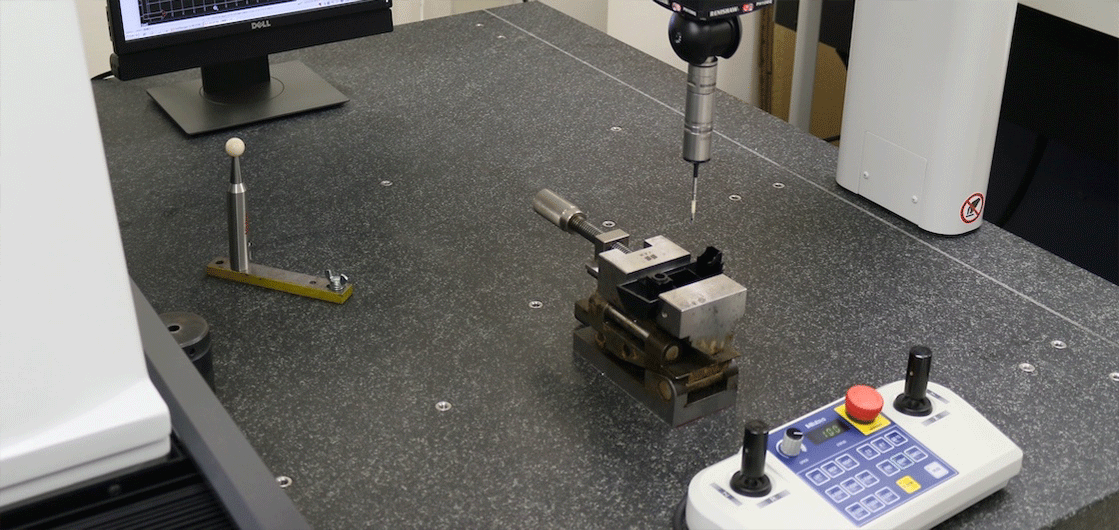 Design and manufacture molds for mass producing parts.
As the name implies, molds are made of metal and are used to produce parts quickly, cheaply, in large quantities, and in an uniform manner.
planning
I am in charge of planning dies for making parts.
In the mold planning stage, we calculate the appropriate number of molds, number of parts to be taken, mold cost estimates, and schedule plans for new models in cooperation with other departments such as factories and development and design departments.
At the stage of mold mass production, we review the appropriateness of the planned project and the points for reflection, and provide feedback for the next model.
Plasticity
I am in charge of the area of mold design for parts.
In the mold planning stage, we use prototypes, CAD and CAE to closely match the product designer to the details of the part to ensure both part quality (function and appearance) and mass-producibility.
In the mold production stage, we promote the maturation of the mold until mass production in cooperation with the finishing staff to ensure that the mold is made according to the plan and mold specifications and that the parts can be molded without any problems.
Finishing
I am in charge of the mold finishing area for parts.
In the mold fabrication stage, we verify the mold structure and manage the progress of fabrication.
During the mold maturation stage, we identify the cause of any defects that may have occurred and add machining and adjustments as necessary to ensure that the parts can be molded stably and without problems.
We also have a large number of technicians who have acquired national skills qualifications in mold finishing, and are involved in the launch of new mold models at overseas factories and the training of local staff overseas.
Precision Measurement
Precision Measurement
I am in charge of measuring the dimensions of parts.
During the mold maturation stage, the dimensions of the molded parts and mold dimensions are measured to ensure the quality of the parts and molds.
In addition, members who have acquired national technical qualifications in precision measurement are taking the lead in training local staff overseas.
Mature: A generic term for the workmanship adjustment process required to meet quality requirements.
Achieving high-precision mold making by in-house production
The Minebea AccessSolutions Mold Section, in collaboration with its subsidiary Hirose Seiko, produces many of its own molds in-house.
In addition to making and maturing molds, we also work with factories to improve problems in the molding and coating departments and provide feedback for the next model, thereby strengthening the competitiveness of the factory.

While it is common in the industry to outsource molds, we have been able to accumulate and utilize know-how and experience by producing them in-house.
For example, a mold is made up of parts that fit together like a puzzle, but if the rigidity of the mold or the fit between the parts is inadequate, material will flow between the parts (burrs) when molten material under high pressure and temperature is filled during molding.
For this reason, mold designers must ensure mold rigidity under various constraints, and finishers must be able to adjust mold alignment in micron units. A variety of other factors also play a role in causing defects. Our in-house production allows us to pass on the know-how gained from these experiences to our employees, and to prevent and solve problems at an early stage.
Continue to provide high quality, low cost molds
One of our greatest strengths is our in-house, one-stop manufacturing of what our customers require.
By handling the entire process from development to mass production, rather than just mass production, we are able to respond quickly and be flexible to changes in the development area, such as sudden changes in part composition, part shape, and variations. In addition, problems and concerns in the factory area, such as assembly, molding, and painting, can be smoothly improved at the source and fed back to the next model.
The Die & Mold Section supports this kind of collaboration and is able to make constructive proposals based on an understanding of both the "parts" and "manufacturing" perspectives, while staying close to the customer's needs.

"In the mold section, we believe that it is necessary to further evolve technologies that lead to increased efficiency and cost reduction of parts, given the prediction that all products in the world will be electronic.
For example, we need to strengthen technologies that directly combine different functions, such as insert molding and two-material molding, as well as new appearance treatment technologies that enable both appearance and functionality to be achieved simultaneously. We are working to strengthen our technological capabilities so that we can propose manufacturing methods that best meet the needs of our customers while keeping abreast of market needs."

We also have many options to reduce costs and shorten delivery times while satisfying quality requirements, because we have production bases around the world and connections with reliable mold suppliers. We have many options to reduce costs and shorten delivery time while satisfying quality requirements. By taking full advantage of these strengths, we will be able to offer the best solutions to meet our customers' schedule plans.
Production Technology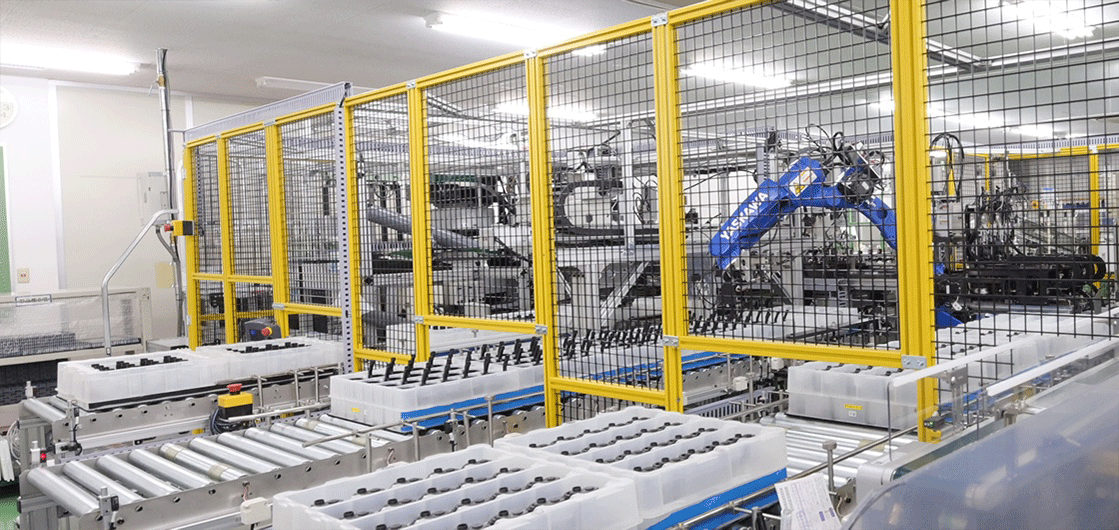 Our role is to supply competitive production lines to all our bases
The role of the Production Engineering Section is to plan and conceptualize production lines to be installed in the factories of our bases around the world, including Japan, and to supply the actualized equipment.
There are five groups in the section, each in charge of a different process.
Planning and Design
Planning area: To realize a high-quality and high-efficiency production line, we carry out product planning, line concept study, and process design.

Mechanical design area: Detailed specifications and design of equipment to realize the planned production line.
Electrical Design
Together with planning and design, we examine the detailed specifications of the equipment and design the electrical hardware circuits and programs to operate the equipment.
Engineering Machine
We assemble and shape the parts that make up the equipment, and make the equipment capable of achieving the required accuracy through centering and adjustment.
We are also responsible for the maturation of equipment in Japan and the start-up and setup of equipment overseas.
Promotion Management
I manage and direct the equipment manufacturing operations of the Production Engineering Section in order to maintain control among the group companies.
In addition, as a purchasing function within the Production Engineering Section, I estimate, scrutinize, and order the parts that make up the equipment from manufacturers, and I am also in charge of attendance and other general affairs.
Physical Reform
We work together with production sites to develop and implement plans for improving production methods in Japan.
We will promote manufacturing innovation by being flexible and integrating our own ideas and those of other companies to catch up.
Realization of high quality and low cost through one-stop manufacturing
In the production engineering department, we have a one-stop in-house production system from planning and design to mass production provision.
In most cases, the production technology of many manufacturers in the same industry is outsourced for the actual manufacturing of equipment once the specifications are considered.In the production line, we do not only assemble, but also mold and paint the parts in-house, so that all that is left is to install them in the finished car. This allows us to maintain higher quality and reduce costs.

One of our strengths is that we are responsible for a variety of processes in automotive parts, including door mirrors, steering locks, and keys. Since each process has its own person in charge, there are multiple technologies are combined, the people in charge share their technologies skills with each other to achieve high-level manufacturing. The fact that we are a single company with deep core technologies in a wide range of fields is what leads to the high quality manufacturing that is typical of Minebea AccessSolutions.

Our ultimate goal is to make our customers happy with the products we produce. Therefore, it is important for us to reduce the cost of equipment manufacturing and production while maintaining the quality.
Since infrastructure, wages, and the ratio of purchased goods vary depending on the location in each country, it is necessary to pursue optimal costs while taking advantage of the characteristics of each location. If we don't make a comprehensive decision based on a variety of information looking several years ahead, we may make a big mistake. We run simulations within the department to determine the best way to manufacture products at this location, and then set up the production line after careful consideration.
Enhancing technological and human resources capabilities with an eye on the future
The work of the Production Engineering Section does not end when mass production begins. We are required to constantly incorporate new technologies and devise ways to reduce the cost of production. We will continue to research and investigate from various perspectives and adopt new technologies.

One of the most recent steps we are taking is to establish new elemental technologies. Looking ahead to the future, when cost competition is likely to become more intense, we need to investigate our competitors and have as many weapons as possible to help us win. For existing products, we are looking into ways to achieve lower costs by using different manufacturing methods, and for new products, we have members of the development team working ahead of us, so we can provide support from the unique perspective of the Production Engineering Section.

In addition, electronic technology has been rapidly accelerating in the automotive industry recently. In order to enhance our technological capabilities in line with global trends such as the recent evolution of carbon-neutral and automated driving technologies, we would like to put more effort into training specialists in the field of electronics.