Governance
Basic Concept
To become a company that people and society want to exist, Honda Lock is working to enhance corporate governance as one of the most important management issues.Specifically, we strive to increase the trust of customers and society, encourage the company to make swift, decisive and risk-based decision-making, and aim for sustainable growth and mid- to long-term improvement of corporate value.
Corporate governance system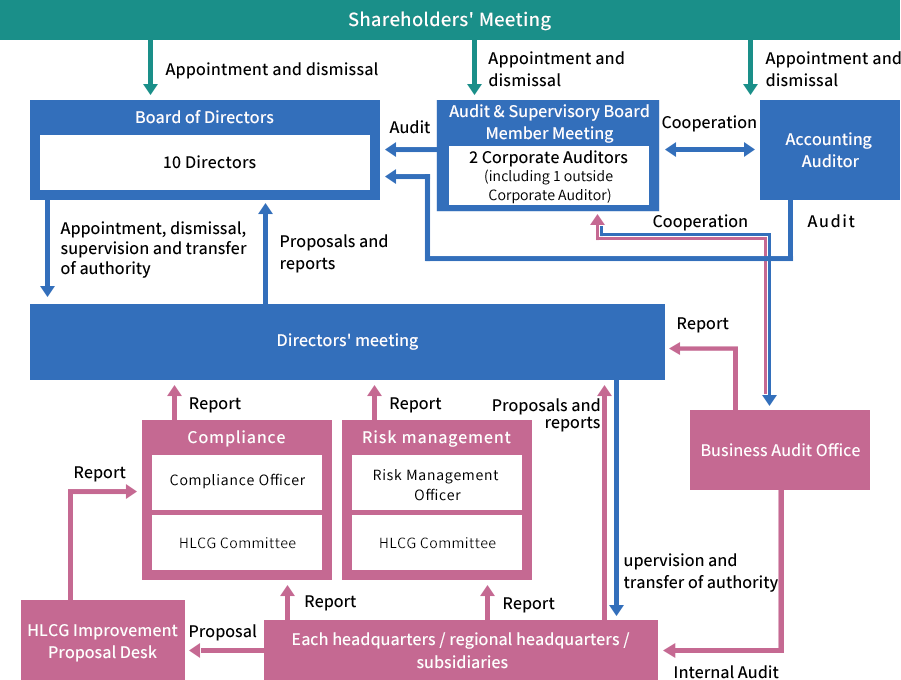 Compliance
Honda Lock Code of Conduct
In order to earn the trust of our customers and society and grow sustainably, we must not only comply with laws and regulations, but also practice sincere and ethical behavior. Based on this recognition, Honda Lock has established the "Honda Lock Code of Conduct," which summarizes the sincere actions that Honda Lock associates around the world should practice. It is shared by the entire group, including domestic and overseas subsidiaries.
With the aim of disseminating the "Honda Lock Code of Conduct" to each and every associate, we distribute leaflets, post posters, and carry out publicity activities such as conducting training.
HLCG Improvement proposal
Honda Lock has set up the "HLCG Improvement Proposal Counter" as a mechanism to improve corporate ethics issues. At this counter, we accept proposals (including consultations) from a fair and neutral standpoint if an act that violates laws and regulations or violates company rules occurs in the workplace and it is difficult to consult with the boss and resolve it in the workplace.
In addition to obvious violations of laws and regulations and internal rules, we also accept consultations and confirm the facts in case of suspicious acts and inquiries regarding the contents of internal rules. Proposals can be made by email, letter, or phone. The proposer is protected from any disadvantageous treatment, and anonymous proposals are also accepted. We have also set up a contact point with an outside law firm to create an environment that makes it easier to make proposals.
Additionally, in order to raise the awareness of the counter within the company, we post information on the intranet, distribute publicity cards, and post publicity posters at each workplace. These tools specify the protection of the whistleblower.
Risk Management
Establishment of risk management system
Honda Lock has established the "Honda Lock Global Risk Management Regulations" that cover up to our subsidiaries. This regulation aims to achieve sustainable growth and stable management of companies based on the Honda Lock Philosophy, and covers all risks that affect business at the global level.
In promoting activities, the Risk Management Officer elected by the Board of Directors plays a central role in following up on the creation and establishment of the system.
In addition, each organization promotes risk management activities at its own risk by establishing a risk management secretariat and building an independent risk management system based on the basic policy of the regulations.
As a main initiative, we carry out company-wide "risk assessment activities" that identify, evaluate, and respond to risks using a common method. In the event of a crisis, we set up a Global Crisis Response Headquarters according to the degree of impact to respond to the crisis.
Risk Assessment Activity
Honda Lock conducts risk assessment activities throughout the Group. The purpose of this activity is to anticipate the potential risks surrounding the business and take proactive measures to minimize the risks. Once a year, each department conducts a risk assessment based on risk items and evaluation criteria common to the group, identifies "department-focused risks," and responds.
In addition, at the company-wide level, "company-wide priority risks" are identified based on the judgment of the risk management officer, and they are shared and discussed at the board of directors.
Information management
Honda Lock has the "Honda Lock Global Confidentiality Policy (HLGCP)" and "Global IT Security Policy (GITSP)" that cover all group subsidiaries for the purpose of protecting information assets such as confidential information and personal information. It has been established and stipulates a systematic response system, compliance items when handling confidential information and personal information, security standards in information systems and networks, and report lines in the event of information leakage.